Engage
Explore
Provide wires, battery, lamp, switch and challenge students to make the bulb glow
Discuss what worked and what didn't
Explain
Introduce idea of closed circuit, energy source (battery), electrons


Atoms
basic building blocks of life and matter.
exist in over a hundred different forms as chemical elements like hydrogen, carbon, oxygen, and copper.
are tiny - a copper penny (if it actually were made of 100% copper) would have 32,000,000,000,000,000,000,000 atoms of copper inside it.
are made of protons, neutrons, and electrons with a center and surrounding the nucleus are a group of orbiting electrons.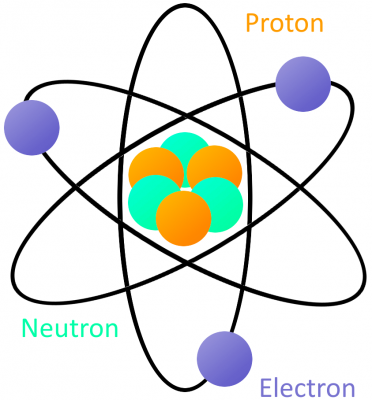 electron can escape orbit of the atom and become free. Free electrons allow us to move charge, which is what electricity is all about.
Elements with very mobile electrons, are called conductors. These are the types of materials we want to use to make wires and other components which aid in electron flow. Metals like copper, silver, and gold are usually our top choices for good conductors.
Elements with low conductivity are called insulators. Insulators serve a very important purpose: they prevent the flow of electrons. Popular insulators include glass, rubber, plastic, and air.
Explain that a circuit is a closed, never-ending loop of conductive material. conductive wire? components? NO
insulating
gaps. Electrons are not generated, just passed around.
Elaborate
Make a flashlight to take home